If you are a cat owner, then you probably would have experienced this situation where one minute your cat is licking you, and all of a sudden, it starts to bite. Have you wondered what just happened? Maybe your cat didn't like the way you were petting, or maybe it didn't like how you were scratching its back.
Well, in this article, you will get some insights into the world of felines. After reading this article, you will get to know why cats lick, bite, or display certain behaviors when you are least expecting them.
How cats communicate
Even if you have had your cat for years and you are mostly aware of your cat's behavior, you'd be surprised to know in how many ways they communicate with humans. Cats usually use their body to communicate with their humans. They use their body to express their emotions, which is why when your beloved cat starts to lick and bite, you have to be attentive. Being attentive in such situations will help you better understand why they are displaying this behavior.
You might want to look for signs such as; did you unintentionally startle your cat while it was licking? Is your cat purring and biting you gently? More than you can imagine, all these signs will give you a lot of information about the reason for the behavior of your cat.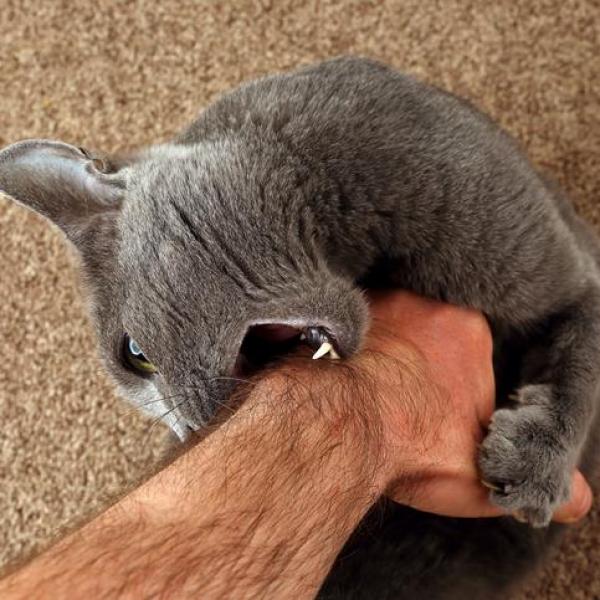 Cats are certainly lovable and a fluffy ball full of entertainment. The moment they choose you as their person, then consider yourself locked in for life. Depending on the cat, they have different ways to show you that you are their everything. They display various actions to communicate that they are happy with you.
When your cat starts sitting on your chest and begins rubbing its mouth on your chin, it is a way of showing you that he loves you. This sign could also mean that he is trying to tell you that he owns you. The scent glands of a cat are located along its jaw, so rubbing his jaw against yours means to say that he is leaving behind a trace of his pheromones on you. Felines use this as a reminder that you are reserved or as a warning to other cats that you are taken. It could also simply mean that he is hungry, and it is time that you should fill his bowl.
There are various behaviors a cat can show, which signals that he is happy, relaxed, and feeling your love. Many of these displays of affections are, however, most usually their ways of grooming themselves or their owners.
Why does your cat lick?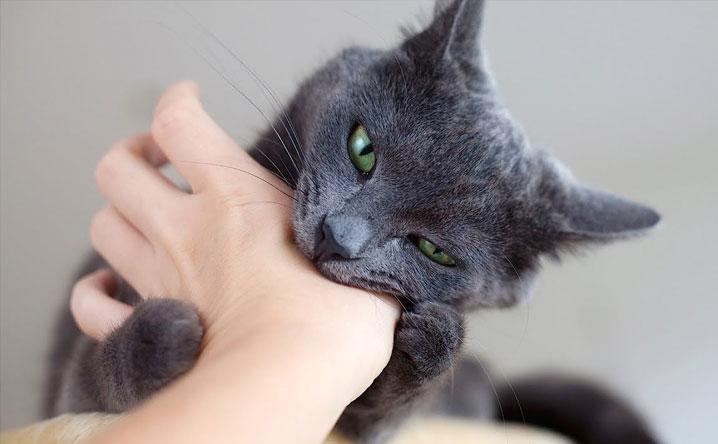 You cannot narrow down and interpret just one reason as to why cats lick. Licking, followed by biting, which is very commonly observed in the feline species, has various spectrums of interpretations.
You might have noticed that while your cat is licking you, there is a certain coarse feeling to it. This is because a cat's tongue is made of tiny keratin spines. The coarse texture of a cat's tongue is very useful for cleaning themselves, untangling their furs, drinking water, and removing dirt from their body.
Every time your cat licks you, especially when it starts licking your hair, it is their way of grooming you, as though you were another cat. This behavior of a cat is very positive as it is an indication of its desire to make you feel comfortable as well as to show that it shares a good bond with its owner.
Your cat licks you as a sign of affection because of association. They learn that this is something that humans love too. Remember, however, that if this licking is happening non-stop, then it could mean that there must be something wrong with your pet friend. Endless licking could also be an indication that your cat is stressed or is suffering from anxiety.
Why does your cat bite?
Similar to licking, a bite could also be an indication of several things. When your cat bites, it can be a sign of playfulness, or else it could mean that it is angry and frightening. You can tell when a cat is angry by the expressive body language it displays. An angry or frightened cat will start hissing, make a long meowing sound, and it will curve its back.
An angry bite of a cat is the complete opposite of biting, which it does while playing with you. A cat also bites as a way of telling you to stop petting it, or as a sign of innocent affection. When your cat is affectionate, it will bite you repetitively in a controlled way.
Licking and Biting Simultaneously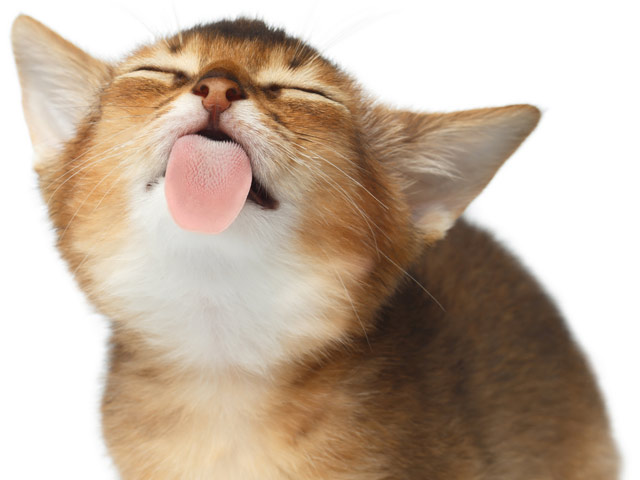 Cats clean each other by nibbling and licking. This practice of cats is to ensure that the brushing and hygiene routine is performed thoroughly. It is, therefore, completely normal for your cat to bite you when you interrupt its grooming session.
Even while your cat may be showing its affection towards you, its bite might unintentionally hurt you. If this happens more often, then you need to start laying down some rules so that your cat realizes that this is hurting you. Stop playing or caressing your cat the moment it bites you. Follow this pattern every time it starts biting. This repetitive pattern will let your cat associate biting means the end of the playtime.
You can also encourage the cat's calm licking, and rubbing against you by giving it treats at that time, for good behavior. Cats have distinct behavior of displaying that they are in discomfort or pain.
When your cat starts licking a specific part of its body continuously, it could be an indication that it is in pain. Moreover, when your cat is in physical pain, it might try to bite you. If your cat is behaving differently from how it normally behaves, then take this sign seriously, as your cat might be suffering, and you might want to rush him to the vet at the earliest.
Having a cat around is fun and amusing. Your cat will be purring, rubbing on you one minute, and the next thing you know, they are chasing after a fly. All these characteristics of cats make them different, unpredictable, and a delight to have as a companion.