When it comes to our dogs, we want to feed them the best food. We often find ourselves confused about which option to choose.
To answer this question, there are a few considerations that come into play:
The age of your dog

Whether you're looking for kibble or wet food
These are just a few things to consider, and the longer the list of factors, the more confusing the decision gets. So we've divided all the foods into categories to make your life easier.
Best Adult Dog Food – Dry Kibble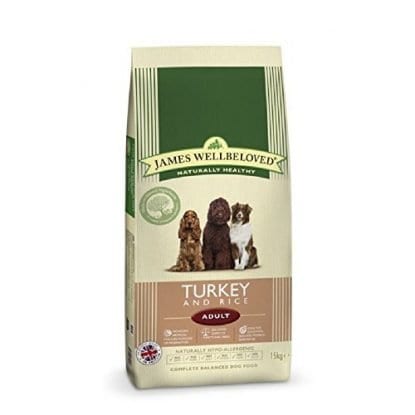 Wellness Complete Health Dry Dog Food
This kibble comes in 14 recipes. The bulk of meat protein is from the chicken meal and chicken. As per the label, the food contains 52% carbs, 17% protein, and 13% fat, which means the fat to protein ratio stands at 50%.
The ingredients present in this formula include deboned chicken and its meat, peas, oatmeal, and ground barley. This kibble is grain-inclusive and includes brown rice.
The 14 flavors include whitefish and sweet potato, turkey, and lamb. The different variants available cater to older dogs and puppies, small and large breeds.
Instinct Original Grain-Free Dry
This brand comes in 6 different recipes and comprises beef, peas, chicken fat, and whitefish meal. Other flavors available include duck, salmon, and rabbit.
The majority of the animal protein in Instinct's formula comes from chicken and beef meals. This recipe contains 23% fat, 29% carbs, and 40% protein, and the estimated fat to protein ratio is around 57%.
Nature's Logic Dry Dog Food
The Chicken Meal Feast is just one of 9 flavors available in the food range, and its core ingredients include pumpkin seed, millet, chicken fat, and meal, and yeast culture. This grain-inclusive recipe uses chicken meal as the main source of meat protein and contains around 36% carbs, 40% protein, and 17%  fats, which rounds up the fat to protein to a 42% ratio.
Other flavors include beef, rabbit, venison, sardine, duck, and lamb. What makes this brand stand out is that it is one of the few that meet the AAFCO standards and does so by trials done through live feeding.
Best Adult Dog Food- Wet
Taste of the Wild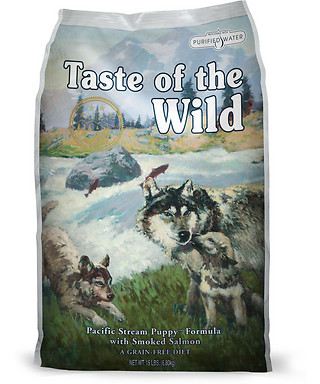 The Taste of the Wild High Prairie with Bison ingredients includes lamb broth, vegetable broth, beef, dried egg product, and lamb liver. It comes in the form of chunks mixed in gravy and is grain-free. What makes this stand out is the fact that it is suitable for all age groups, puppies and adults alike, and is available in a variety of five different flavors.
This formula's meat protein is mostly beef, and the recipe is made up of 22% fat, 44% protein, and around 25% carbs, which makes the fat to protein ratio round up to around 50%.
Merrick Classic Canned Dog Food
Merrick has a wide variety of up to 11 flavors available.  The recipe contains chicken and beef broth, deboned beef, peas, and beef liver and is gravy and chunks. This grain-free formula is safe for all age groups. Deriving its animal protein source from fresh beef, the formula is made up of 47% protein, 29% carbs, and 16% fat. The fat to protein ratio amounts to around 33%.
Halo Wet Dog Food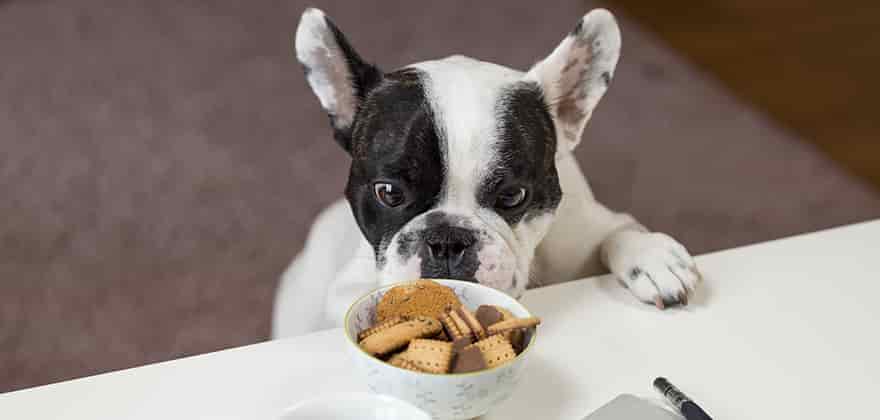 The Halo Lamb flavor is just one out of 8 recipes and is available in pate or stew. It is grain inclusive, which includes rolled oats and barley, and is made up of carrots, lamb, beef liver, and chicken broth. However, this range is only appropriate for adult dogs.
The animal protein present in this formula comes mainly from beef liver and lamb and contains 14% carbs, 28% fat, and 50% protein. When calculated, the fat to protein ratio stands at 56%.
A disclaimer for when you go out to buy dog food, pay special attention to the label, and see whether the food is suitable for your dog's age. There is a reason why there are different foods for puppies and adult dogs.
Puppy food comes in two groups, either for larger breeds or smaller ones.
Best Puppy Food Dry
Farmina N&D Ancestral Grain Dry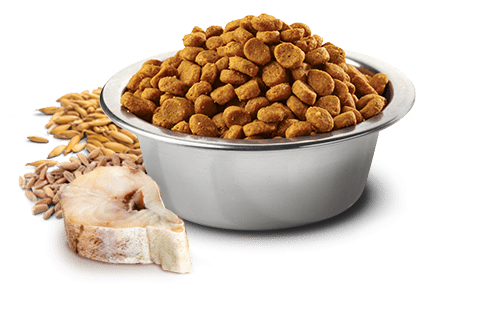 This range includes 15 recipes. This particular recipe is grain inclusive and is made up of deboned and dehydrated chicken and chicken fat and oats and is best suited for larger breeds.  Most of the animal protein comes from chicken and is 32%carbs, 38% protein, and 22% fat, and the fat to protein ratio is at 57%.
Go! Carnivore
This recipe is one out of 5 and is best for small and medium-sized puppies. It is made up of turkey, chicken, and salmon meal as well as deboned turkey and chicken. This grain-free recipe includes 32% carbs, 40%protein, and 20%, and the fat to protein is at a ratio of 50%.
Best Puppy Food Wet
Instinct Original Grain-Free Wet Puppy Food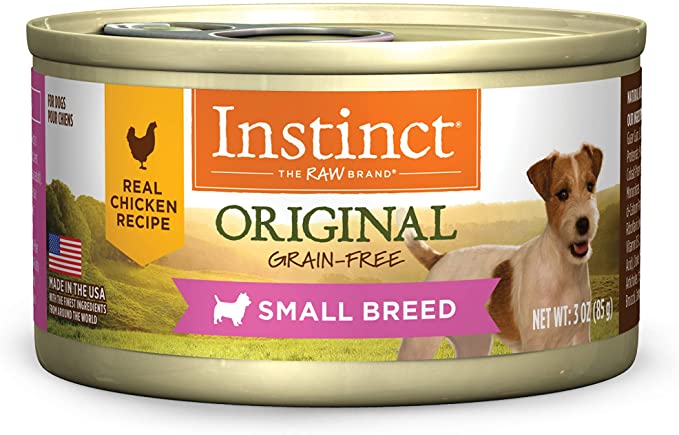 A great formula from a well-known brand name, the Real Chicken recipe, is one of 8 flavors available and grain-free. Made up of chicken and its broth, salmon, beef liver, and carrots, it is best for small to medium-sized dogs. The meat protein comes mainly from chicken, and the protein, carbs, and fat content is respectively at 46%, 19%, and 27%. This means the fat to protein ratio is 60%.
Merrick Grain-Free Puppy Plate Chicken
This grain-free recipe is from a range of 11 recipes and is made up of carrots, sweet potatoes, deboned chicken, and broth as well as duck. Appropriate for all puppies, including large breeds, the deboned chicken is the source of animal protein. The fat to protein is at a ratio of 50 % with 13% carbs, 53% protein, and 26% fat.
Conclusion:
Hopefully, following this guide will help you choose what's best for your dog. Happy feeding!