If you have googled the above sentence, I can imagine you have a dog that has made your carpet their favorite teeth exercise. He is chewing and chopping away that expensive rug you bought from turkey or something, and you don't know how to stop this behavior.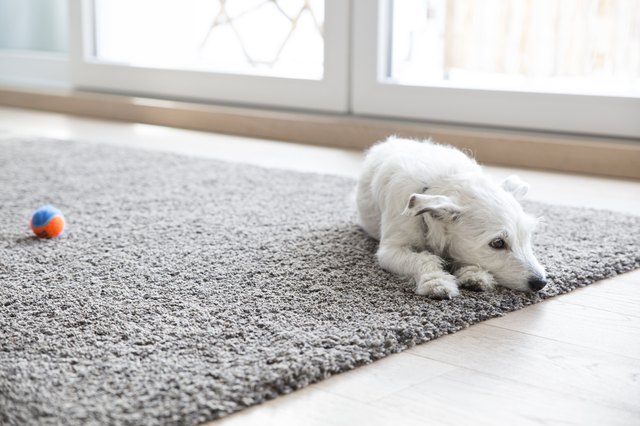 This chewing habit is a common instinct in dogs, and it is something you do not have to put up with much. There are ways and solutions you can get rid of this habit. However, you definitely should do this even if you calculate and decide to let him have the carpet or other things that might be inside your house as there is potential harm in there and your dog's health.
Now before we go into the topic of how to tone down your dog's chewing habit, we need to figure out the reasons why your dog is chewing so much.
REASONS WHY YOUR DOG IS CHEWING YOUR STUFF:
Chewing is one of your dog's most favorite and most used instincts. They use it to clean their teeth, develop a strong jaw, and explore their surroundings. However, a dog's excessive chewing can have some underlying reasons. There are myriads of reasons why your dog has become a little Chewbacca. 
YOUR DOG IS BORED:
If your dog has nothing to do and is just sitting there, he might be tempted to go around and chew things to get out of boredom. You should always have something for your dog to do even if you are busy and not around to keep them company. These can be things like giving them something other than the carpet to chew or giving them another dog as a companion.
YOUR DOG IS NOT GETTING ENOUGH EXERCISE:
Your dog can have a lot of energy inside it that it needs to release. This can normally be done by taking them out for a walk and giving them some exercise; however, if that is not done and your dog is kept at home with no area to run around in, then you should be sure to keep your carpets and rugs away from it as it will be going after them. Dogs are active animals. They love to run around and exercise. A dog not getting exercise is not only unhealthy for it but can also affect its mental health.
YOUR DOG IS TEETHING:
Another reason behind your dog going after the carpets and the drapes by chewing them might be that he is teething. Teething means, in simple terms, the process of growing teeth. Teething can make a dog want to chew on anything and everything. This happens due to the intense pain they experience during the process. The process of teething mostly lasts around till the pup is 6 months old.
YOUR DOG MIGHT BE FEELING DOWN: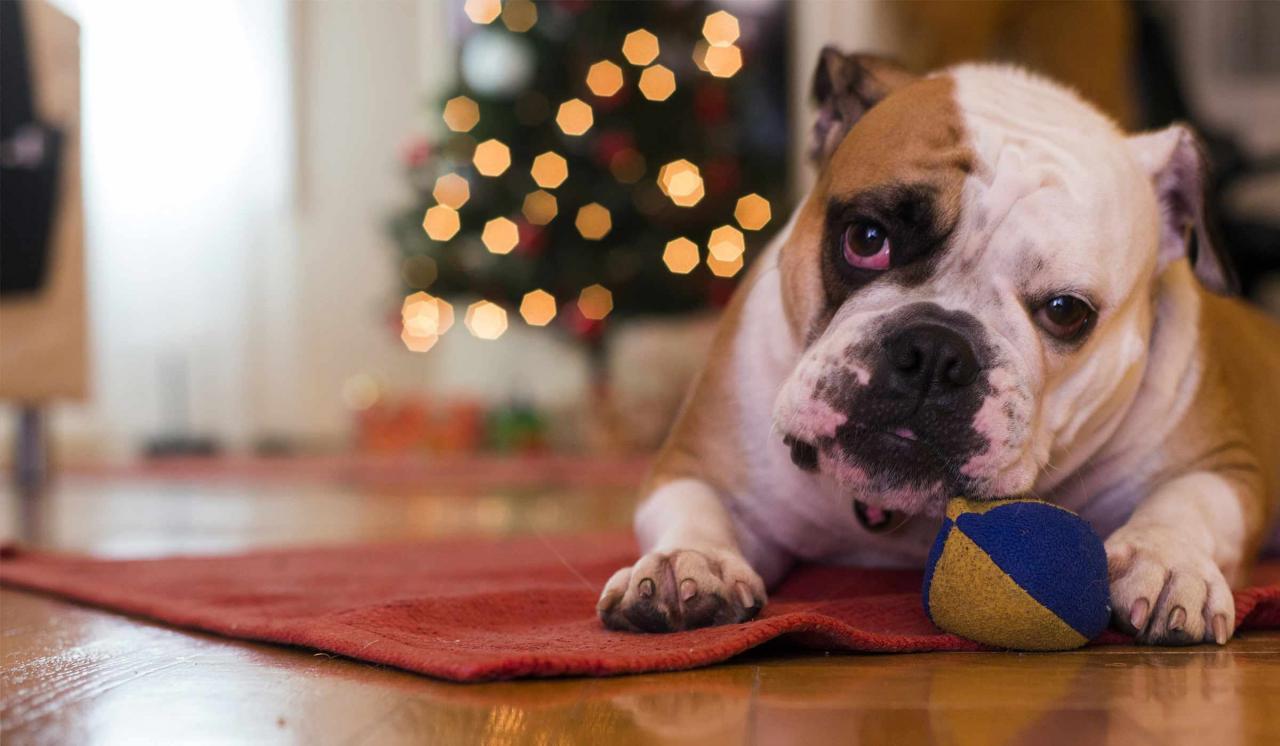 Separation anxiety is a common disease that can be commonly found in household pets like dogs and cats. Separation anxiety can occur in dogs for many reasons, like their owner going somewhere, traveling, or hearing loud noises. There might be other things that might lead your dog down a path of stress. Chewing anything they can get is also one of the symptoms of separation, anxiety, and stress.
YOUR DOG MIGHT HAVE BEEN SEPARATED FROM THEIR MOTHER PREMATURELY:
Weaning is defined as a mammal getting accustomed to other foods other than their mother's milk. Your dog might have lost or have been separated from their mother at an age where they might have needed the most. This is called premature weaning. Chewing carpet and other household objects by a dog at an older age is its way of nursing itself.
CHEWING IS YOUR DOG'S WAY OF EXPLORING THINGS:
One of the ways your dog gets to explore things is by using its teeth and chew them to satisfy their innate curiosity. Your dog might have just discovered the rug just now and might want to know what this thing is. This might be one of the reasons your dog is having a go at your carpet.
ADVERSE EFFECTS THAT MIGHT BE CAUSED BY YOUR DOGS CHEWING YOUR CARPET:
Your dog might have their reasons to chew your carpet. Still, there might be serious consequences to the things that might go inside, which may cause injuries, leading to infections leading to difficult situations that might even be life-threatening.
The threads that might get stuck in your dog's teeth can damage it to the point that they might develop a severe tooth infection. These fabrics can also be passed down into your dog's stomach, which may also lead to internal infections. They can also obstruct the intestine and lead to problems that might even shorten your little furry friend's life.
There also might be a scenario that some of the fabric from your favorite rug might get stuck inside your dog's throat, which might lead to it choking on it and dying. 
HOW TO KEEP YOUR DOG FROM CHEWING ON CARPET:
Now before we go into the solution of your dog's carpet chewing shenanigans, we first have to understand the underlying behavior that might be the reason why your dog is doing what it is.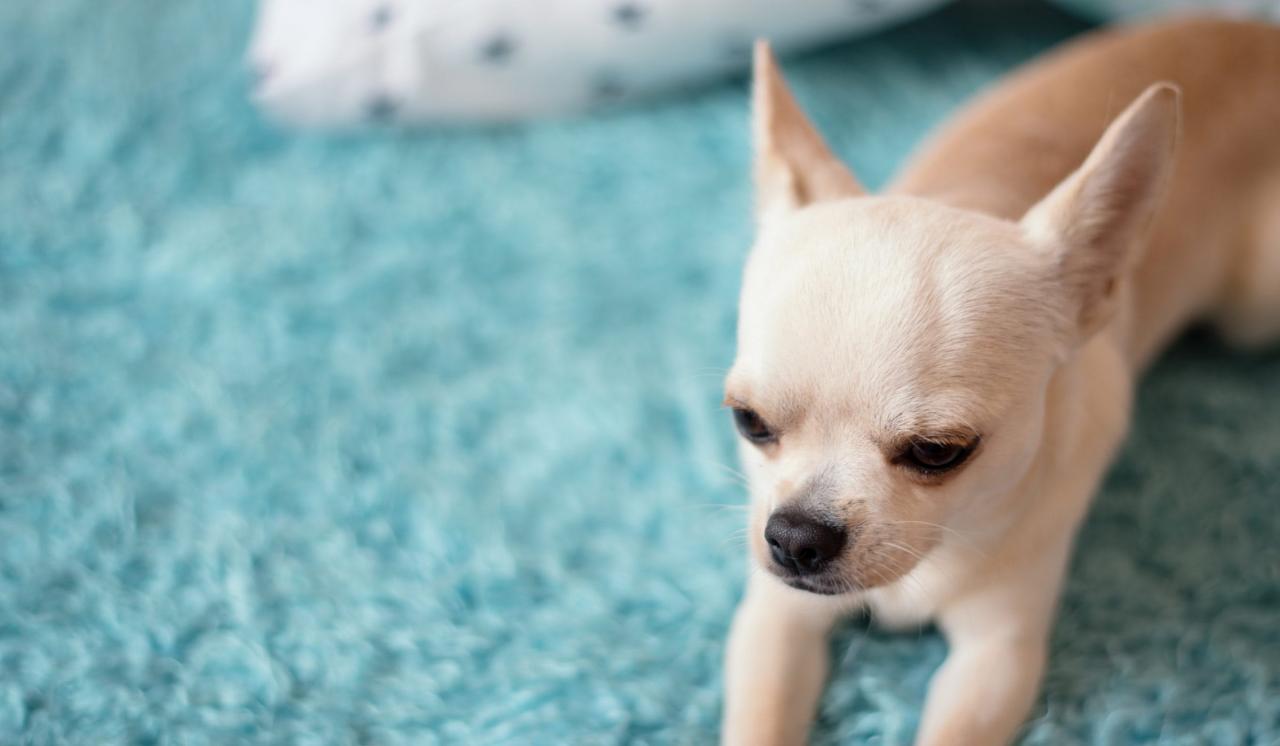 There are two scenarios which have two different underlying causes and solutions:
The first scenario is your dog chewing your carpet excessively and not caring much if you are present or not. This behavior can be mitigated by simply training your dog and a few more things.
The second scenario might be caused when your dog only gets a go at your carpet when you are not around. The underlying issue behind this is the discussed disorder called separation anxiety. To mitigate this, you might need a certified animal behavior expert that will help your pup deal with all the pent-up issues and come out of it good as new.
Here are a few effective ways you can deal with your dog's behavior and help it on the path to recovery from this behavior.
TRAINING YOUR DOG:
As I stated earlier, chewing for your dog is their way of taking in the colors and understanding the world. When your dog is chewing something, it is mostly for it to satisfy its curiosity about what that thing is.
You will have to let your dog practice its natural behavior. However, you will have to introduce safe objects to chew and create obstructions to what they should not be chewing.
You should also limit your dog's access to the areas where you have neat rugs and carpets installed. Just do not let it inside your house unsupervised in those areas where it can create some damage.
You could also train your dog from leaving your carpet alone to give it other chewable items. Give them other toys or bones to chew to have some better viable options other than the rug.
RELEASING YOUR DOGS PENT UP ENERGY:
One of the above reasons we discussed was about the dog not getting enough exercise and not having a place to run and release all that pent up energy. So all this pent up energy then gets directed to your carpet or your rug or whatever thing your dog can get its teeth on. This lack of exercise is also a cause of separation anxiety. 
You will need to take some time out from your schedule every day and take your dog out for a walk or a run. This will not only keep your dog healthy but also yourself. It would help if you also played dog games with them like fetch. Tire them out well before coming home. This will not only keep the chewing at bay but also help with the underlying separation anxiety issue.
CHEAT CODE OPTION:
I am calling this the cheat code option because you will not have to do anything from the above steps other than whipping out your wallet and buying a product. You can also call it the nuclear option as you do not have to train or hire someone for them.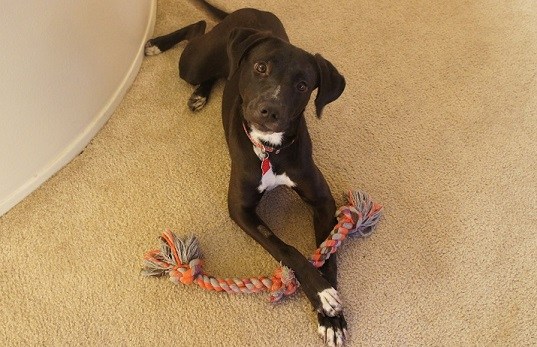 This nuclear option is called Anti-Chew spray. These sprays emit a foul odor and give the carpet a foul taste for your dog and make them lose their interest in whatever they wanted to get their teeth in.
CONCLUSION:
Your dog chewing the carpet might have some underlying issue. This behavior is also injurious to your dog's health in the long run, as well as many diseases and infections can be caused by it. If the underlying issues are caused by curiosity or a lack of training, then you will have a good chance to rid yourself of these issues by simply training your dog; however, if the causes are more severe than you might need the help of a certified expert who will try to help you with this behavior.