You might be wondering if your rabbit can die from overeating, as that might be the one thing that your furry little friend is most passionate about. Rabbits tend to eat a lot. No matter what day it is and what hour it is, you bring food to your rabbit; they will eat it and eat as much as you bring to them. As these furry little herbivores spend most of their time eating the green pastures, you should be concerned about what they should be eating and how it affects them. You should also be looking at how much you should feed them per day as they will eat as much as you bring to them.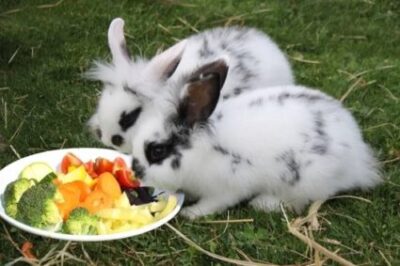 Rabbits mostly munch on hay, with some fruits or vegetables. As they tend to overeat when given the opportunity, their sensitive digestive systems can overload, leading them to become obese, which eventually might lead to death. To prevent this, We will see what they like to eat the most and how much food is safe to eat daily.
WHY DO RABBITS OVEREAT?
Your furry little friend has a pattern that has evolved in millions of years to become what they are now. Rabbits love to eat and what they love to eat is not what they should be eating. They are natural grazers, and they pick the worst type of foods, containing high amounts of calories. Rabbits that live in the wild mostly live on grass, which is healthy for them and low on calories, but when they find a high-calorie food source, they overdo it, which leads to their obesity. Domesticated rabbits, however, should be eating hay, vegetables, and fruits. But that depends mostly on you. They might look cute when they eat everything you give them, but you should be practicing moderation when you feed them.
The rabbit's digestive system is designed in such a way that it is always moving. Digestion is a rabbit that happens incredibly fast. This is why they are hungry all the time and will eat as much as you feed them. If low-calorie foods like grass and hay are available to them, they will never overeat or become obese; however, if an alternative higher-calorie food is available to them, they will skip the hay and eat whatever else is available to them, which leads them to overeat and become obese.
WHAT PROBLEMS ARE CAUSED BY RABBIT OVEREATING:
So, your rabbit cannot stop eating. Keep reading as we tell you what problems are caused by your rabbit eating way more than it should.
Obesity:

This one might be the most obvious. More food means more fat. More fat means less exercise, which in turn means more fat. And the vicious cycle continues. Obesity can lead to other serious conditions like arthritis, fatty liver disease, heart disease, breathing problems, etc.

Tooth Decay:

Rabbit teeth, unlike human teeth, are always growing. Wild and domesticated rabbits are recommended to eat hay as their primary diet, as this keeps them from becoming overweight and helps them trim their teeth. Treats like pellets and sugary foods like apples and berries can lead them to develop teeth that are overgrown and cause decay over time.

Gastrointestinal Stasis:

This is a condition in rabbits where the digestion system completely gives up. The rabbit can no longer digest anything, becoming a serious issue if not treated in time. This condition is caused when a rabbit does not receive a balanced diet for some time. Overeating pallets and other high-calorie foods instead of hay or grass can lead to a rabbit's gut to slow down with the time until it completely achieves stasis.
FOODS YOUR RABBIT SHOULD BE EATING?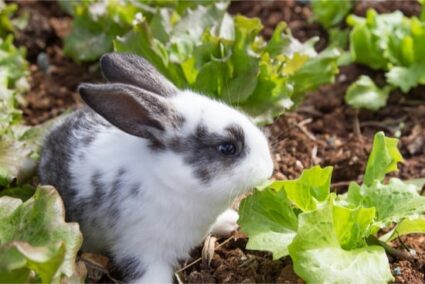 HAY: Hay is a low calorie yet high nutrient food which can help a rabbit do their munching routine without the risk of ever becoming overweight. As wild rabbits like making green pastures as their home, getting grass for them is not a problem. However, if you have a pet rabbit, you can grow grass for your furry friend, but hay is a good and easy alternative. Your rabbit should be given as much hay as it wants. Eating Hay will also help your rabbit to trim its teeth. So, Hay is the most recommended food if you have a pet rabbit.
FRUITS: You can imagine rabbits becoming bored of Hay or grass, so giving them some fruits should also be the order of business. Give your rabbits just a teaspoon full of apples, banana, or strawberry per day. This will help the rabbit fulfill its calorie needs, as hay is an inferior source of calorie,
VEGETABLES: Give your rabbit some vegetables to fulfill its caloric needs like beets, peas, lettuce, radish, and carrots.
PELLETS: Pallets are processed hay. These can be introduced if you think your rabbit is not getting enough nutrients or not eating enough hay. This should only be used as a supplement. They should be given in moderations relative to the weight of the rabbit. If moderation is not practiced, this can very easily make your furry friend a fat furry friend.
WHAT SCHEDULE SHOULD YOU FOLLOW WHEN FEEDING YOUR RABBIT?
This might be a tricky thing when you realize your rabbit does not follow a schedule when it comes to its diet. To fulfill your rabbit's munching needs, give them an unlimited supply of hay so that it can have something to munch while it can wait for some treats and trim its teeth also.
Give your rabbit food in the morning and the evening—two servings of vegetables per day, which can be double the size of their head. Fruits can be given only one teaspoon per day.
WHEN IS IT OKAY FOR A RABBIT TO OVEREAT?
When you realize that your rabbit loves to eat whatever is offered to it, you might be a little surprised by how greedy they can be. These are grazing animals, and they chew whatever they can get. If not practiced in moderation, they can find themselves being obese, leading to developing heart disease, Gastrointestinal stasis, and so many other problems. However, there are times when it is okay for these munching creatures to munch their heart away yet still not find themself in any problem. By this, I do not mean that you go ahead giving them everything under the sun, but you can give them a little bit more than usual.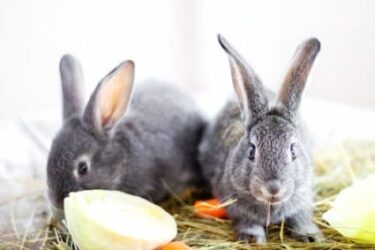 MOLTING: 
Molting means "shedding Fur." Rabbits usually molt four times a year. When a rabbit is molting, they need a little bit more caloric intake to keep them going. This is why when molting; a rabbit can eat a little more than usual,
PREGNANCY:
You can understand this as your rabbit is no longer eating for one. Pregnant rabbits tend to consume more food than usual as they are also eating for the life that is growing inside them. Pregnancy consumes a lot of energy, so rabbits can eat more food than usual when going through this. 
EXERCISE: 
When rabbits exercise more than usual, they tend to consume more foods than usual. So, a little more serving of vegetables cannot hurt.
MY RABBIT HAS STOPPED EATING ANYTHING
If you see that your rabbit has stopped eating anything, then it might be caused by a disease called Gastrointestinal Stasis. When irregular foods are introduced in the rabbit's diets, and the food is not served in moderation, this can cause the gut to be unbalanced and slow down with time. As this happens, the digestive system also stops working. This can lead to zero bladder movement, which leaves the rabbit with zero appetites. This condition should be addressed as soon as possible with the veterinarian as it can lead to the rabbit dying.
CONCLUSION:
Rabbits are greedy little animals. They are genetically programmed to live in green meadows and eat all the grass they can find. They are also always looking out for more and more food sources as grass and hay might be enough to satisfy their nutritional needs but not caloric needs. So once they find a calorie-rich food source, they tend to overeat, leading them to become overweight. Obese rabbits face a myriad of problems and can significantly shorten their life span. If you have a domesticated rabbit, give them as much hay as they want but give them vegetables, fruits, and pellets in moderation. If your rabbit stops eating for some reason, this can be caused by a gut disease called gastrointestinal stasis, which can lead to the death of your furry little friend. So, Yes, a rabbit can die if given more than it needs and being obese.