To share food with your cute furry friend is one of the most adorable gestures, and your pooch just loves it when you do that. However, human foods and dog foods are completely different when it comes to taste and nutritional value. But, the common thing that both humans and dogs need is protein. Dogs love meat, the same way humans do. Among the many processed types of meat, salami is a popular choice among humans and dogs too. How many times have you noticed your dog eyeing your salami as you take a bite?
The strong smell and taste of salami make it an attractive human food for dogs. You may not be able to ignore the sight of your best friend drooling over your salami. But, what happens if you share just a slice of salami? Is it healthy for your dog? Read more to find out if your dog should eat salami.
What is Salami?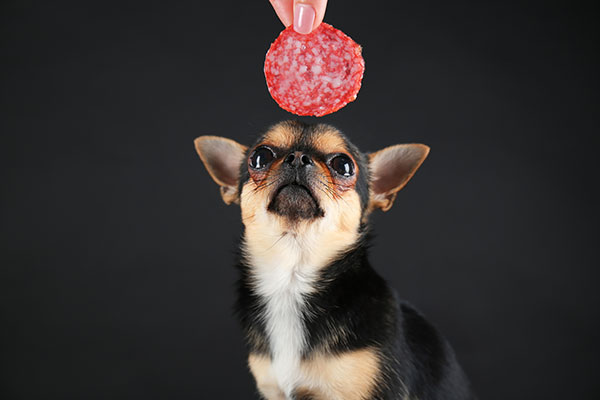 Salami is a type of cured/ processed meat made up of a mix of various ingredients. The primary ingredients in salami are pork, or beef meat, garlic, salt, fat, and wine. In some, sugar, along with other herbs and spices, is also added to give the extra flavor. The whole mixture is then added in a casing, stored for fermentation, and then dried.
The water content in salami is very little since it is dried and then consumed. In the case of its nutritional value, salami is made up of 77 percent fats and 21 percent protein. Its high calorific value makes it a food item that should be consumed moderately.
Can Dogs Eat Salami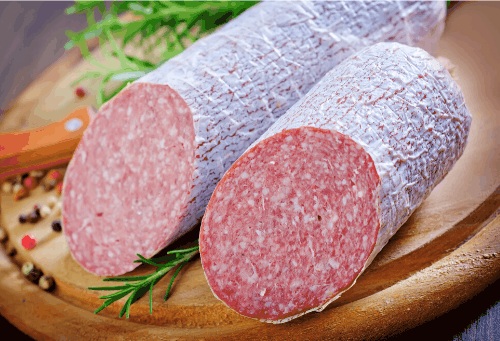 To know if salami is harmful to dogs or not, let us look at all its ingredients and see how they affect the dog's health.
Salt
One thing that all pet owners know is the risk of excessive salt in your dog's diet. Sodium is considered dangerous for dogs, and high sodium levels can lead to serious health issues, sometimes death even. Most dog foods already have a small proportion of about 0.3% of sodium in them. This means that your dog is already consuming sodium in his dog food, and if you add a little extra, she/he will exceed the daily limit.
Dogs generally have a very low tolerance level for sodium. The recommended daily intake of sodium for a small-sized dog of about 30-35 pounds is less than 100 mg. Whereas, just a single slice of salami will have about 214 mg of sodium in it, which is double the recommended value.
High sodium levels in your dog can lead to salt poisoning or kidney failure. More than average sodium level in the blood is known to cause a condition called hypernatremia in dogs. This can lead to confusion, increased thirst, or even coma in some cases. Sodium is especially harmful in senior dogs, as compared to younger ones.
Fat
The fat present in salami is saturated fat. Saturated fat is not only harmful to humans but dogs as well. Fats can be beneficial for dogs when taken in moderation since it helps in calcium being used effectively in the body. However, more than a quarter of salami is made up of saturated fats. That is the main concern here.
Too much fat can cause weight gain and obesity in dogs. It can also cause a condition called pancreatitis (inflammation of the pancreas). If you do eat salami regularly, it can also lead to various heart diseases due to the high-fat content.
Garlic
Garlic is an important ingredient added in salami because of the flavor it gives and also acts as a preservative. Though there is much debate on if garlic is really dangerous for dogs, it is better to be safe than sorry. Garlic comes from the allium plant species, and these species are known to contain a chemical called thiosulphate, which is harmful to dogs. This chemical can cause Heinz body hemolytic anemia, which can even lead to death in dogs.
When garlic is consumed in large amounts, it can lead to toxicity in the dog's body and severe side effects. Some of the common side-effects seen by consuming too much garlic are- vomiting, diarrhea, tremors, etc.
Wine
One-third of a glass of red wine is usually added in a salami prep. Alcohol is never a good option for dogs since it can lead to risks of heart diseases.
Herbs and spices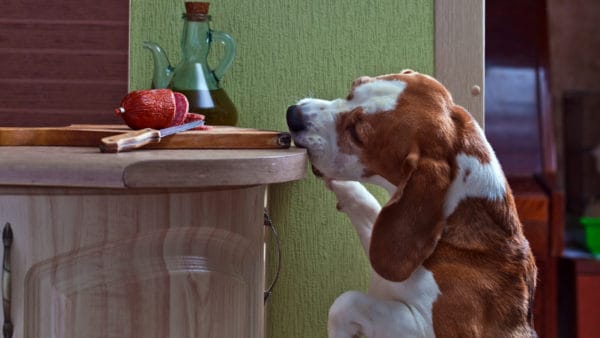 There are many herbs and spices used in salami, and you may not even know if they are good for your dog. You will find herbs such as rosemary, which is definitely not good for dogs suffering from epilepsy. Certain spices can even cause gas in your dog's stomach and make your dog feel uncomfortable. They can mess up your dog's digestive system.
What if your dog ate salami?
If your dog accidentally ate some salami by mistake, there is no need to panic. It will not risk your dog's life, but you should look out for any dangerous symptoms. Chances are, your dog will want to pee frequently because of the high sodium intake. In such cases, give a lot of water to drink, so that the sodium is flushed out of the system through urination.
If symptoms such as vomiting, diarrhea persist, then it is best to take your dog to a vet.
Conclusion
Processed meat as a whole is not a very good food choice for dogs. If you are very keen on feeding your dog salami as treats, you can do so in limited amounts. Before purchasing a salami, it is a good idea to check for any ingredients that can be harmful to your pet. Consult a vet if you need to make sure that the contents are safe. You can even find a salami that has a lower fat content, which can be safely given to dogs, provided the quantity is monitored.
Since dogs love salami or any other form of meat, you can give them treats while training as a prize for a good job done.